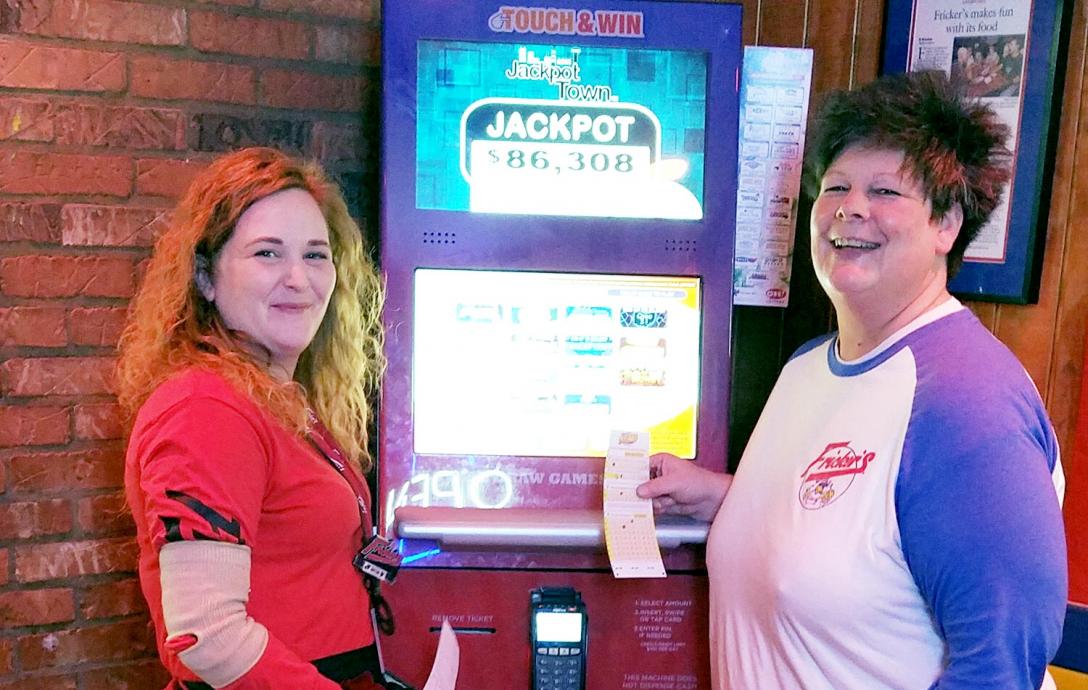 Fricker's #107, Cincinnati
Fricker's #107 has the distinction of being the top-performing location when it comes to Lottery games for the Fricker's chain. KENO is a big seller in their 17 sports bar/restaurants selling Ohio Lottery games.
We salute the bartenders, servers and other in-venue employees who have made KENO a part of the fun at the popular chain restaurant. On average, 40-50 employees work at Fricker's #107 in the North College Hill area of Cincinnati.
It's a huge part of what we do," says Brittani Nolan, a bartender and server at Fricker's #107. "We have regulars devoted to KENO."
She'll take wagers from customers while working behind the bar and helps cash out winners. The MP and Touch & Win vending machines also get a lot of play for KENO and other Ohio Lottery games.
Fricker's pays attention to training, offering a special class at the chain's corporate offices, according to Brittani. Store managers often take advantage of the Ohio Lottery's own KENO Certified Expert program too and encourage their staff to do the same.
As to working with their KENO regulars, Brittani says, "We always talk to them and wish them good luck."
Benji Walker, Region Manager, oversees the North College Hill, Middletown, Mason and West Chester Fricker's locations. He says that KENO is a popular form of entertainment for their guests.
"It's exciting, and we enjoy playing along with them," Benji says. "All types of guests play some sort of Lottery game. KENO, by far, is the biggest."
The business makes a point of selling scratch offs through the ticket vending machine. He says that it's self-sufficient and easy for staff to manage.
A regional manager since August 2019, his charge is to build sales and Fricker's impact in the communities it serves. It's a priority to reward employees for their loyalty and good work, retaining hardworking, quality staff.
Get more tips
Get 'em playing. keep em staying.
Cash in